MHS Quarantine Life
Keeping busy, but staying safe.
by Joyce Wang '22
Virtual school presented a new challenge for the MHS Drama Department: how could they present their fall play if no audience members could attend… and no thespians could be on stage together?
Despite this novel hurdle, MHS theatre students prevailed with their performance of Qui Nguyen's She Kills Monsters. The app Padlet supplemented the sound of an audience's applause, and scene backgrounds featured original artwork from students.
All told, MHS's fall play is a trailblazer for a new direction in the theatre world.
11 Jan. 2021
by Melanie Zhang '22
For Amelia Cunningham, what began with violin lessons at nine has become a lifelong passion. This winter, Cunningham spreads holiday cheer despite the pandemic, now through a digital platform.
23 Dec. 2020
by Ishani Ghosh '23
Small local businesses like CafeMerica and Leticia's Cleaning took a serious hit during the pandemic.
23 Dec. 2020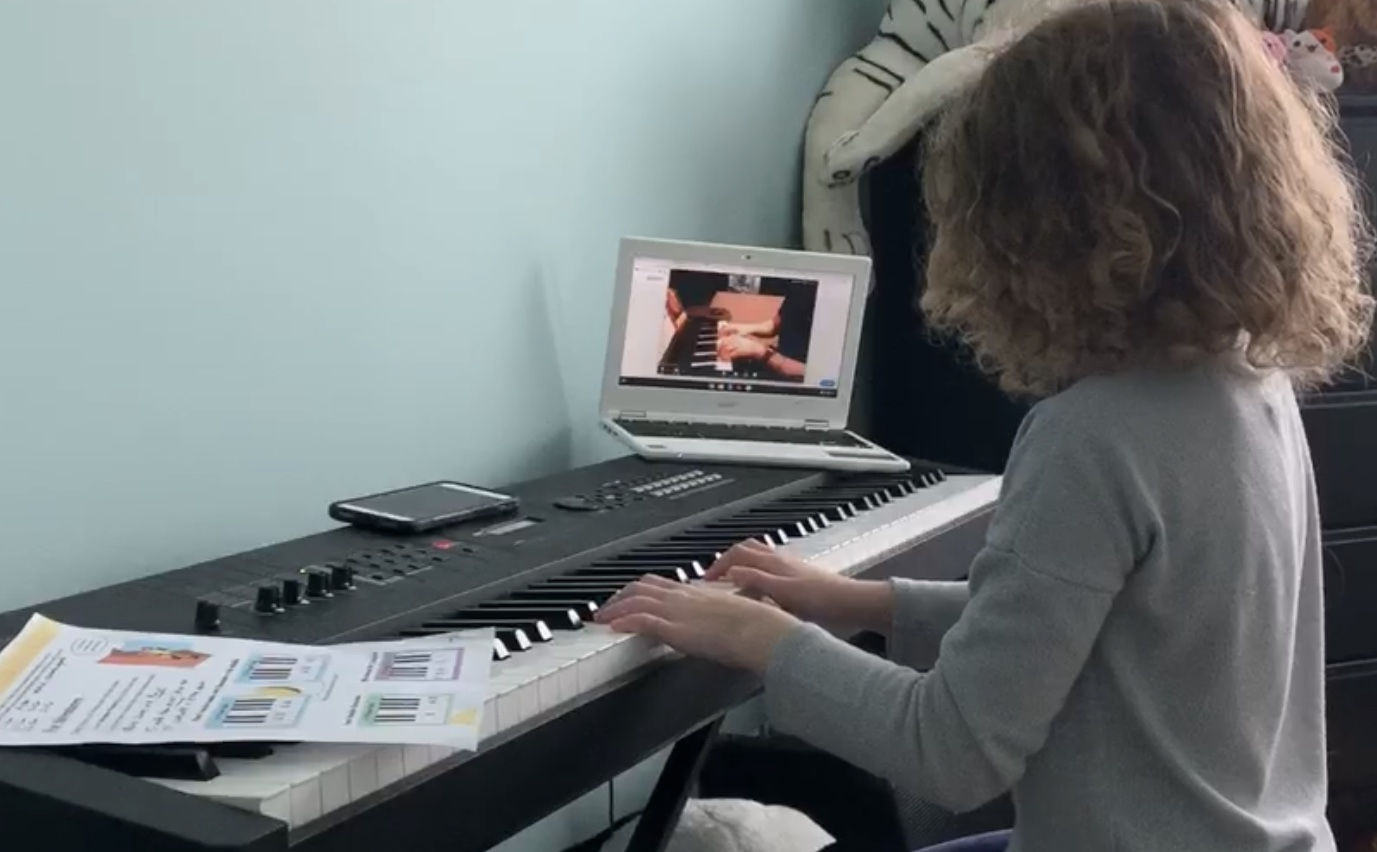 by Catherine Gonzalez '22
Learning music is hard. Now add Internet issues, screen lags, and noisy backgrounds to the mix.
23 Dec. 2020
by Melanie Zhang '22
Teens' mental health has been seriously impacted by COVID-19. While there are no easy solutions, there can still be light in an otherwise dismal time.
23 Dec. 2020
by Aleen Xue '21
This fall, a group of colleges in America opted for a hybrid schooling model. For hybrid students, this decision came with serious pros and cons.
23 Dec. 2020
by Uma Patel '22
The Trenton Area Soup Kitchen has faced numerous challenges this year as they try to provide food and support to their patrons. This challenge extends to Teens4TASK.
23 Dec. 2020
by Audrey Chang '23
American retail and consumer habits have adapted to the COVID-19 pandemic as we move into a holiday season in quarantine.
23 Dec. 2020
---
Meet MHS's 2020 Class Officers!
by Kiran Subramanian '21
On October 21st, the class of 2021 learned of who their officers were for their final year in high school. All of these individuals have proven themselves to be diligent and hardworking students dedicated to ensuring that the seniors will have an enjoyable and memorable final school year.
27 Nov. 2020
by Flora Xia '23
Despite the obstacles of a virtual year, uniting the class seems to be the primary goal, with an emphasis on team-building to ensure a successful next two years. "Class officer means a lot to me," Pranav said. "Having this say over the way our class conducts itself makes me so enthusiastic. Virtual learning has pushed the officers and me to be and do better."
24 Nov. 2020
by Madhumita Kannan '22
Since it is the last year to fundraise, president Michael Liu hopes to collect as many funds as possible by broadening "the variety of fundraising opportunities to encourage more students to participate." In difficult times like these, third-time historian Adriana Papdakis hopes that this year's activities can also provide a sense of "togetherness and unity."
23 Nov. 2020
by Michelle Sun '24
It is clear that being a class officer as a freshman is a very different experience from being a class officer as a sophomore, junior, or senior: with the benefit of more time to fundraise but the added disadvantage of inexperience in a new environment, the class officers have a lot to say about how it feels to be a freshman class leader.
23 Nov. 2020
---
by Lauren Tortolani '24
The Montgomery school district has a heavy focus on math, which has both negative and positive effects on MHS students.
24 Nov. 2020
by Julie Edelstein '22
Throwing unneeded medicine in the trash seems like a practical enough solution, but many fail to understand the potential consequences of it.
4 Oct. 2020
by Catherine Gonzalez '22
A new perspective – MHS teachers provide their thoughts on both Virtual and Hybrid school.
24 Nov. 2020
by Annabelle Wang '22
Insecurity beats down a lot of high schoolers. But Rianna Moses is willing to lead the fight back.
13 Oct. 2020
by Alissa Wu '23
These days, reducing stress is both more difficult and more important than ever. Here are some methods to keep your stress in check.
24 Nov. 2020
by Flora Xia '23
Despite the many perks of online school, the clear consensus of Montgomery students is the hope that classes and clubs will return to normal next year.
13 Oct. 2020
by Joyce Wang '22

Tutorial on how to draw facial features and keeping busy while in quarantine
by Madhumita Kannan '22

Quarantine, for some, has made the days feel longer, but MHS students are still finding fun ways to pass their extra time. Here are a few, delicious recipes that MHS students made in the past few weeks.
by Ben Zhao '22
Montgomery Township School District's first virtual extravganza shares an beautiful gallery of student art created while in quarantine!

Let us know what you've been up to!
Feel free to send in some of your own pictures or stories!